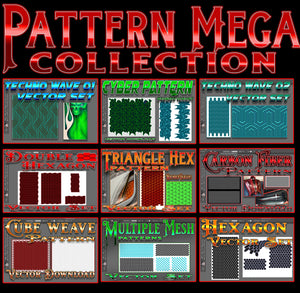 Pattern Mega Collection
In the Custom Paint world you can never have enough patterns to use. This is especially true Automotive and Motorcycle Custom paint industry. 
Over the Years I've created and used so many patterns from Simple to ones the make your head spin. This collection features some of my best patterns I've used and some I've never shown before. I went through and made sure each files has a repeat so you can make endless masks for your paint and design work.  Ive also version with outer contour cuts for tiling as well as variants with not contour outline so you can duplicate and repeat the pattern virtually infinitely.
This File Set Incudes multiple versions of
• Carbon Fiber   • Cyber Pattern 01   • Double Hexagon
• Cube Weave    • Hexagon Set    • Multiple Mesh set
• Techno Weave01    •Techno Weave 02 • Tripple Hex 
along with Rounded Cyber 01 & Rounded Triple Hex variant.
Thats 15 Patterns of endless possibilities for your paint and design work


Buy Purchasing them all as a pack it also saves you money
 This file has multiple file types that will work in virtually any design software.  These file types include AI, EPS, SVG, PDF, DXF, PNG, and Jpeg.   So whether you'r designing a layout to be cut from a Plotter,Cameo Silhouette, or Cricket, or in illustration for photoshop or tattooing.
     Some programs require you to import the file vs open the file

 YouTube Channel >  Airbrush Down and Dirty Tricks
  Email Scott@thinairgrafx.com for any questions.
**This is a Digital Download not a Physical stencil***
These files are for personal use only. Files are to follow along with the video how-to for learning the techniques and process and is not for redistribution or resale.  Files can be used In conjunction with your original works but can not be resold for mass duplication or redistribution or resold.  All Rights Reserved to Scott MacKay/ Mackay Fine Art

Thank You