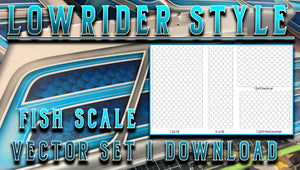 Fish Scale Vector Set Download
This download includes the Fish Scale vector used in my Down and Dirty Tricks video Lowrider Custom Paint, Candy, Lace, Fans, & Fish Scales.  This set include 4 configurations depending on the size plotter or cutter you have. 
Sizes Include 
12x18 and 5x18 perfect for plotters or cutters that can use roll material.
9x12 with two configurations perfect for those with a Cricut cutter or Cameo Silhouette cutter.  These configurations are perfect for FBS Vinyl Plotter Mask Sheets
    This download contains multiple file types and reference images that will open in most vector based design programs such as Adobe Illustrator Coral Draw Flexi sign and the like. 

Some programs require you to import the file vs open the file
 YouTube Channel  >  Airbrush Down and Dirty Tricks
https://youtu.be/JjVoe1PFZ8Q
**This is a Digital Download not a Physical stencil***