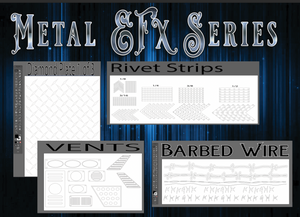 Metal Efx Series
Metal FX series contains some of the most used items in the custom paint scene.  And its some of the best projects to work with to improve and master your Airbrush Basic skills
Set incudes 
3 Diamond Plate variants 
Barbed Wire
Rivet strips and angles size to match "POCKET GRAFX" Rivet master
Multiple vent styles to add depth and dimension to your artwork.
Follow along with videos on YouTube Airbrush Down and Dirty tricks.
This download contains the Vector files and Printable's for the How-To Live steam Project that aired on YouTube 3/23/23 This file has multiple file types that will work in virtually any design software. These file types include AI, EPS, SVG, PDF, DXF, PNG, and Jpeg. So whether you'r designing a layout to be cut from a Plotter,Cameo Silhouette, or Cricket, or in illustration for photoshop or tattooing.
**This is a Digital Download not a Physical stencil***