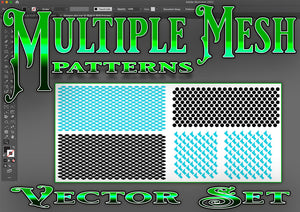 Multiple Mesh Pattern Set
In the Custom Paint world you can never have enough patterns to use. This is especially true Automotive and Motorcycle Custom paint industry. 
Over the Years I've created and used so many patterns from Simple to ones the make your head spin. This set incudes 4 Mesh variants Ive used in multiple projects form bikes to cars, and host of other projects over the years.
The Set incudes 
Circle Mesh
Oval Mesh
Rounded Diamond Mesh
 x2 Three Dimensional square patterns
    This file has multiple file types that will work in virtually any design software.  These file types include AI, EPS, SVG, PDF, DXF, PNG, and Jpeg.   So whether you'r designing a layout to be cut from a Plotter,Cameo Silhouette, or Cricket, or in illustration for photoshop or tattooing.
     Some programs require you to import the file vs open the file

 YouTube Channel >  Airbrush Down and Dirty Tricks
  Email Scott@thinairgrafx.com for any questions.
**This is a Digital Download not a Physical stencil***